Whats been happening?
All-Right What has been happening.............
well nothing much. Headquarters is going well, lots of gigs, lots of good bands and the music team is getting more organised. It's not as much not having enough ideas and that we are slack, it's just finding the actual time to implement things and to detail out ideas.
It's good to see most of the All-Ages WAMI shows are at HQ and that the higher local profile bands are trying out the venue.
But during this part of the year of WAMI time I am gearing up to travel out to the concerts but alas I am slack. Although I can't resist the closing party! Gyroscope ahoy!
We are thinking of either putting on a rather biggish concert if TEE studying time permits or just putting on a sort of rock/punkish concert.
Either way one of them should be coming up rather soon and we better get our act together.
We have some ideas of the bands we want but we are just mixing and matching at the moment.
We'll see....

We just basically wanted to make a website because I have way too much time on my hands. Well apart from being a prototype of so many other sites, we can offer total orginal ramblings from anyone who wants a say. Stride wants to support anything, we will rally for any cause and probably make stupid comments hidden behind long winded ramblings.

Hey why not take a look at my poll and vote whether this site is shit or not




Bands, Bands, Bands
The feature band this week is Gyroscope.
Gyroscope are:
Daniel Sanders - vocals / guitar
Zoran Trivic - guitar / vocals
Brad Campbell - bass / vocals
Rob Nassif - drums
If you want more info then check out their website
Just to end off with a little quote which sums up Gyroscopes ability and talent.
"Gyroscope have returned with a fist full of new anthems that are determined to get noticed. After you let your ears experience Gyroscope it will be an experience you are likely to never forget". X-Press Magazine.

Gyroscopes website
Tip of the week..
Idlewild may definately not be local but *drools*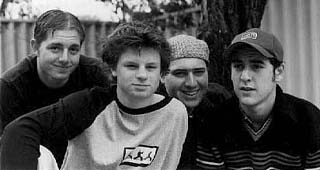 New websites all round
Grand Central are getting alot of nice comments thrown their way by various people I have ease dropped on. They have a new site up and running, Grand Central, former name GC 161, seem like nice guys and their music is mighty spiffy too so check it out.
Grand Centrals website